Banner advertising on our Monitor

Give Your project recognition to a large audience of HYIP investors.

Why do I need a banner?
The effective advertisement with an increased image effect. The influx deposits to your project, discussion and increased interest from investors.
Highlight your project among competitors
Sticky Listings - Stick your project in TOP places. Coloring your project in Elite colors, which guarantees increased attention from investors. Prices start at just $15/week.
Banner places - Choose a banner space with the best size and price.
Static Banners - A static place that invariably displays your banner on each page of the monitor.
Rotating Banners - Slots system. When you go to another page the visitor sees the next slot.
Discounts are available when ordering multiple slots/months ahead.
BUY BANNER NOW
Discount on ALL BANNERS starting from 2 weeks

BRANDING OF THE BACKGROUND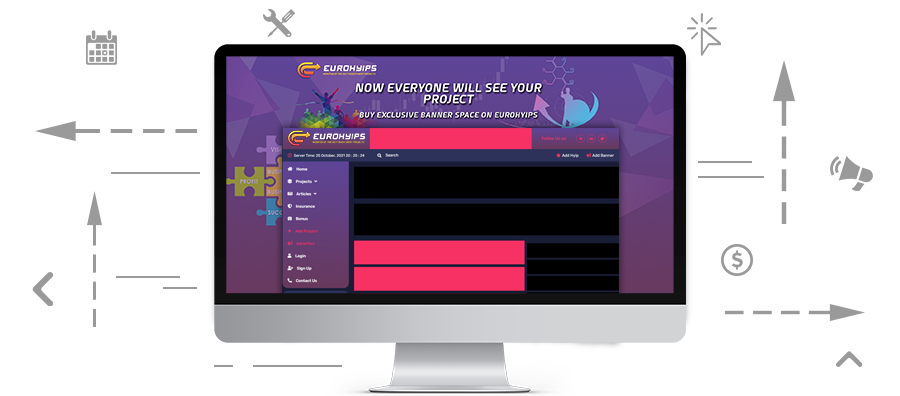 The most effective advertising with an excellent image effect. We guarantee a powerful influx of contributions to your project, discussion and increased interest from investors.
Service
Term
Cost
Branding (1920x1080) background (substrate), on all monitor pages, maximum 4 slots in rotation
week / month
150$ / 450$
Do you want the advertisement of your project to immediately attract the attention of every visitor of the monitor? Branded background - will attract attention.
Unique background design and installation of the background to the portal - for free.
When ordering several months in advance - we have a system of discounts
When ordering from 1 month, part of the amount (50%) goes to the insurance fund of the project (we will discuss it further).
To order, please contact:
Contacts
Telegram
HOT PROJECTS
Hot projects
$
Want see Your project here? - Click
Exclusive
Exclusive
Exclusive
A new opportunity to draw attention to your project. The module with pinned exclusive projects is displayed on the home page, as well as on the detail pages of each project in the listing!
Service
Term
Cost
Fix the Logo of your project with a link to the detailed page of the project on the monitor
LIFETIME
50$
The type of advertisement that gives trust to the project. The module is displayed on the page of each competitor project.
Adaptive module is displayed in the top on every page, for users through the mobile version of the site.
The number of places is limited to 6 positions. Here are the best projects at our discretion, we will replace one of them with your project
To order, please contact:
Contacts
Telegram
Our official wallets
1BoaYSVrZNWZRN44qUCg48JRpibrzgMUoR

Bitcoin

LMofPZiat713saTyWSnTqY6A1EvSuARe4e

Litecoin

TT5abuamodtgtdZ2LTeeU1NcXBMpNEUqmU

Tron (trx)

TT5abuamodtgtdZ2LTeeU1NcXBMpNEUqmU

Tether USD TRC20

0x66926147DBD34ED139BBED0BD790961909ECE7aa

ВCS USDT20 BEP20

0x8F42963Aa4F070FB26142a1A92Ed30fCB621c34F

Ethereum
* - Data is updated in real time
** - We reserve the right to refuse to provide services without explanation.